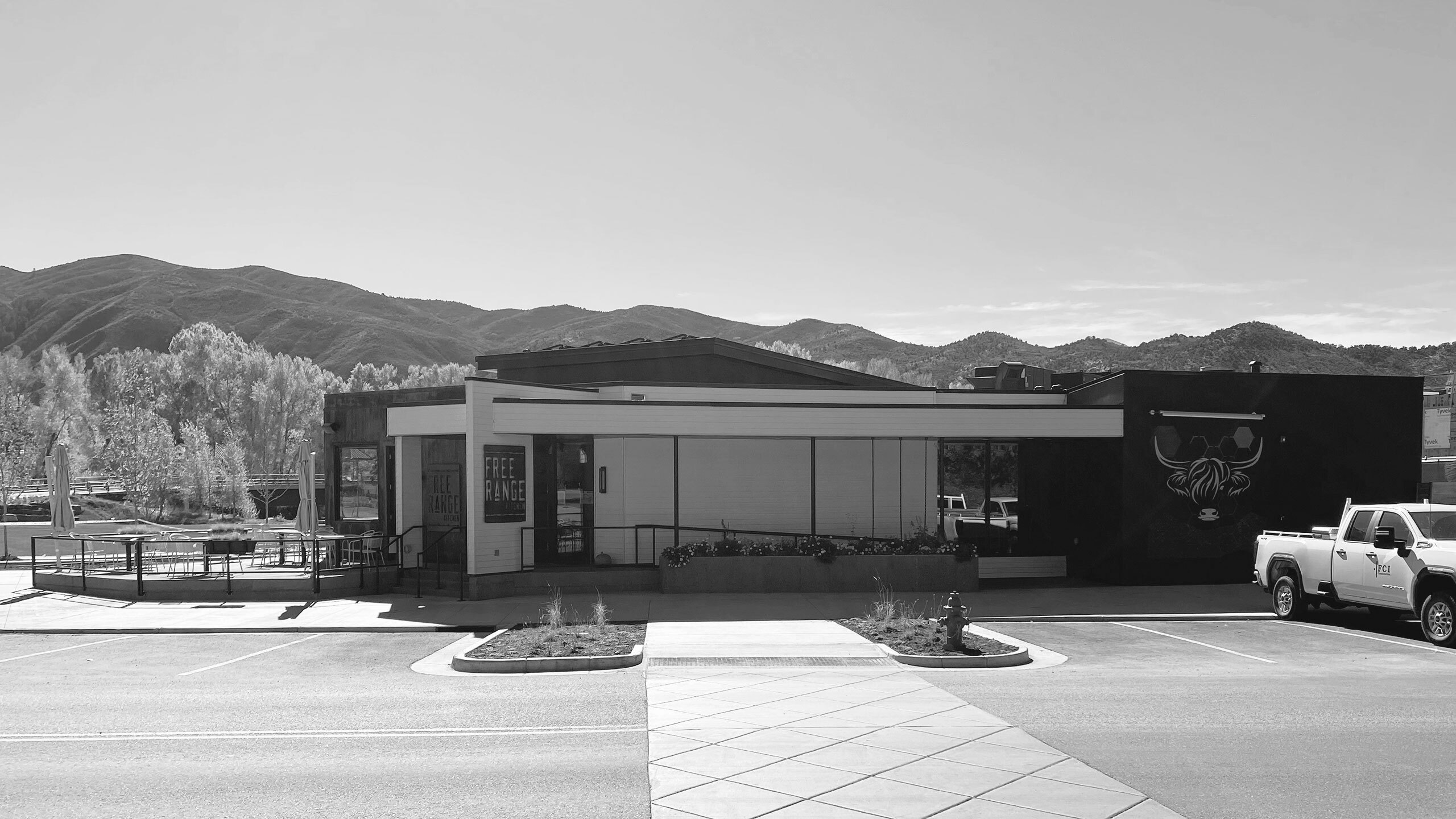 At CCY, engagement with our community is a core priority for the firm and the people who work here.
Will Young, an architect who has worked with CCY for eight years, exemplifies this through his portfolio of projects at CCY and as an independent artist. Having worked as an adjunct faculty instructor in ceramics at Colorado Mountain College, a resident artist and studio assistant at Anderson Ranch Arts Center, and a guest design critic for the University of Colorado Summer Design Program, Will has done so much for the arts community throughout Colorado.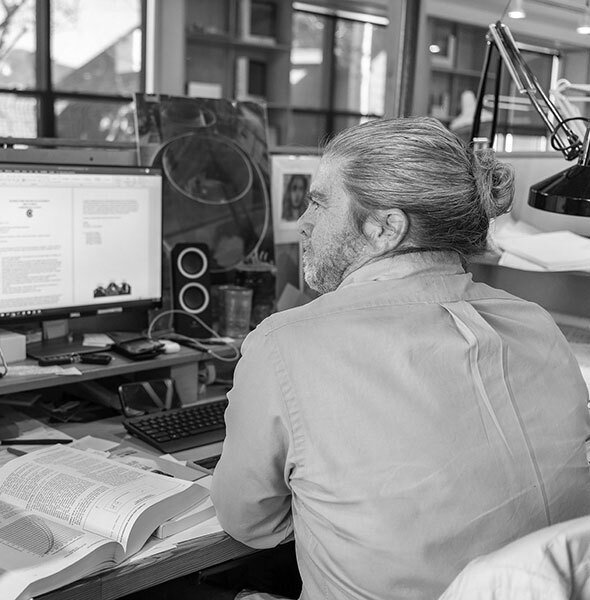 Recently, he was asked by the owners of Free Range Kitchen, to create a mural for the facade of their new Roaring Fork Valley restaurant located within the Basalt River Park, a CCY-designed mixed-use re-development on the banks of the Roaring Fork River in Basalt.
Located on a parcel next to the Roaring Fork River and a large park, Basalt River Park includes free-market residences and deed-restricted affordable housing units, ranging from a large penthouse to 415 SF 'micro' units. Part of our scope also included designing the free-standing restaurant building home to Free Range, which attracts pedestrians from downtown Basalt and the riverside park.
We talked with Will about his artmaking process and how he came up with this unique art project.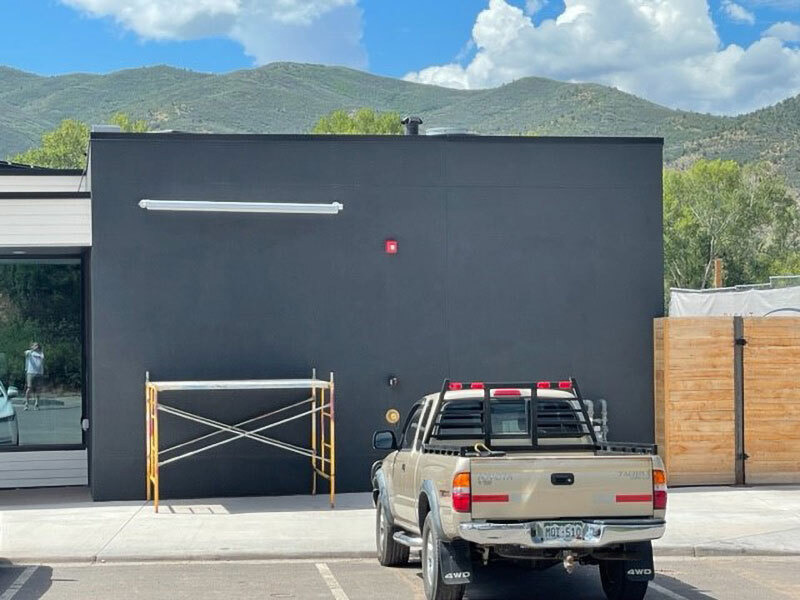 Can you talk about the process of conceptualizing and creating this mural? Did you come up with this design or is it their logo? Did you work closely with the restaurant owners or did they give you free reign to do what you wanted?
While designing the restaurant there was a blank wall without any windows that faced the street, it enclosed the kitchen space. Being in such a prime location it was the perfect opportunity for an exterior art piece. Very early in the design process, we included the restaurant's graphic logo of a Highland Cow on the wall in our drawings to illustrate the potential of how a large wall mural might look. The restaurants owners became very attached to the idea so we submitted the 10'x12' design to the Basalt Planning Department as an "artistic mural" as opposed to signage - the PUD approval for Basalt River Park had language permitting public art & large-scale graphics on the buildings. While they agreed that it qualified as an art mural, they were concerned about the use of the same Highland Cow logo image, not wanting to open a precedent for large scale signage. So we found a more stylized Highland Cow graphic which they approved.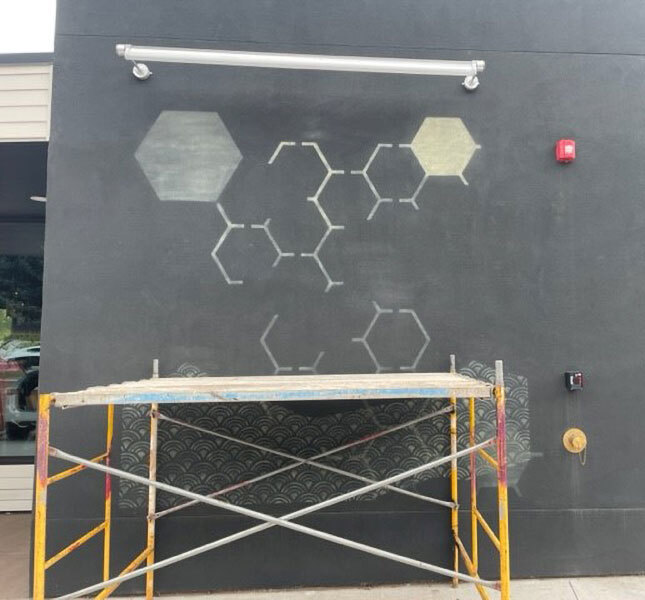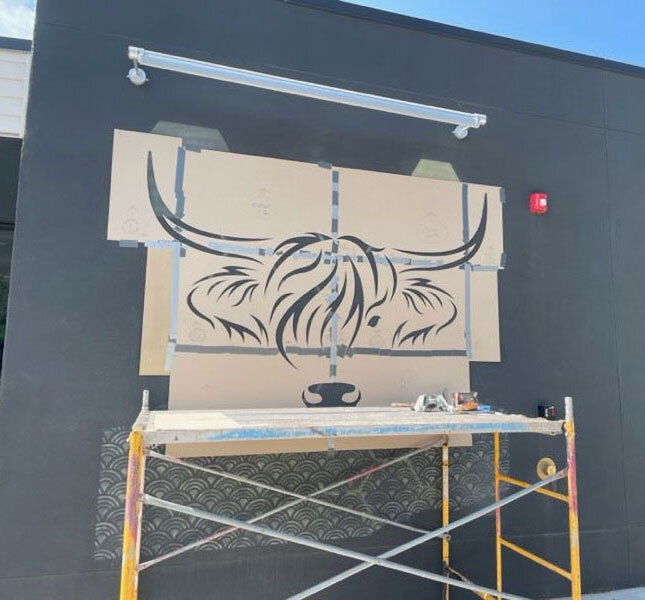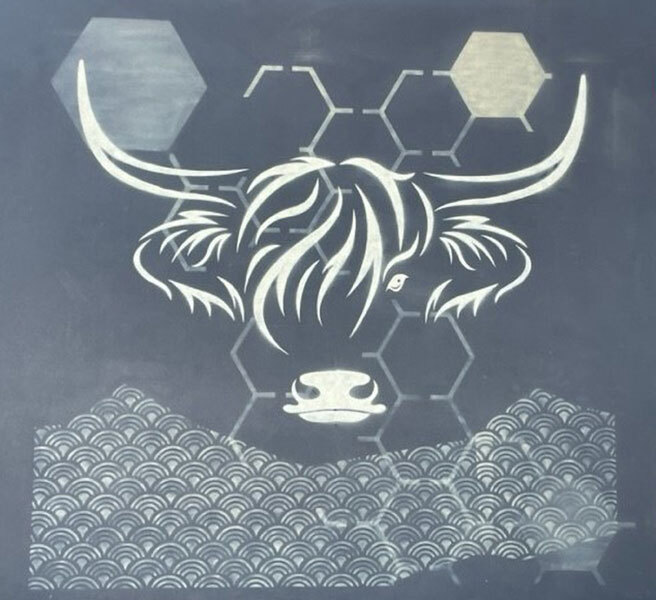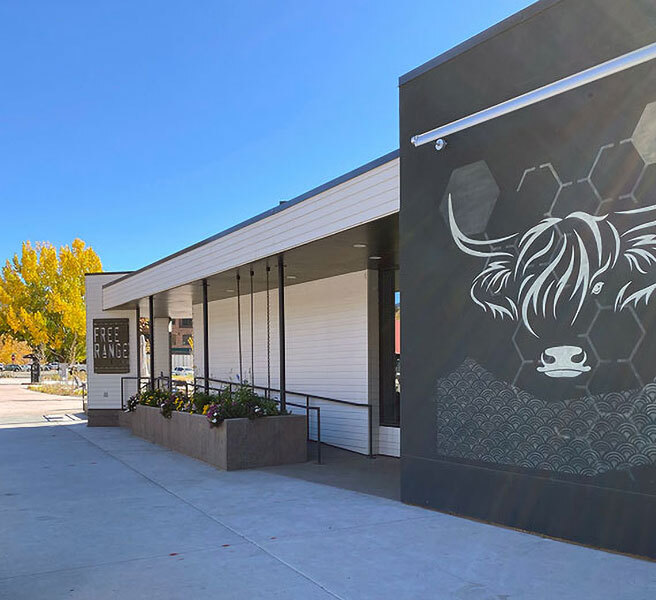 What was your next step in terms of further developing your idea for this site?
At some point, I offered to paint the work primarily out of fear that it might get kitschy in the wrong hands, but I also began to visualize the potential of it as a Stencil Graffiti- a form of graffiti work I have been interested in for some time. I felt that the cow was too singular and wanted to add other elements that tied it more closely to what the Free Range restaurant is about. I added the abstracted Beehive and Grass/pasture graphics which speaks to their local farm to table concept. Much like any architectural project, I collaborated with the owners, on the design based on our shared idea that some of the elements could fade or have a ghostly quality, allowing the cow image to stand out. I made several mockups with different color combinations, and we decided to stay monochromatic against the black stucco wall surface.
What is your connection to this site and restaurant?
I'm part of the design team for Basalt River Park development, which includes the restaurant building that Free Range owns, so I've gotten to know the site really well on so many different levels.
What medium(s) do you work in when creating your work of art?
I like to work in a variety of materials including, Ceramics, Cast Glass, Steel, Concrete, Wood & Cast Bronze. I like to explore the potential of the materials I work with and often say "I have never met a material that I did not like."
What inspires you and/or influences your art and your architecture design approach?
My artistic work is a further extension of my architectural thought process. Producing gallery artwork and public art installations affords me the freedom to explore fresh ideas and undiscovered opportunities of architectural expression. I respect the 'craft' of building objects by hand both in art as well as architecture and seek to understand and explore the possibilities and potential of the material I am working with at any time.