Design Award of Excellence
CCY Architects received the highest honor, a Design Award of Excellence, as part of the American Institute of Architects' (AIA) Colorado annual juried awards programs.
The DNA Alpine residence, competing against a field of applicants, was praised for its attention to detail and its commitment to recognizing and implementing the AIA Standard of Design Excellence. Along with 26 other honorees, winning projects and teams will be showcased at the AIA Colorado Practice + Design Conference this October in Keystone, Colorado.

This house is the result of a talented design team pairing up with thoughtful clients to create architecture that responds to the site in a way that preserves the natural beauty and creates wonder and delight that will endure generations for the owners and their family. It was an incredible project to work on, and it's an honor to be recognized by our peers.
– CCY Associate, Jenny Trumble, AIA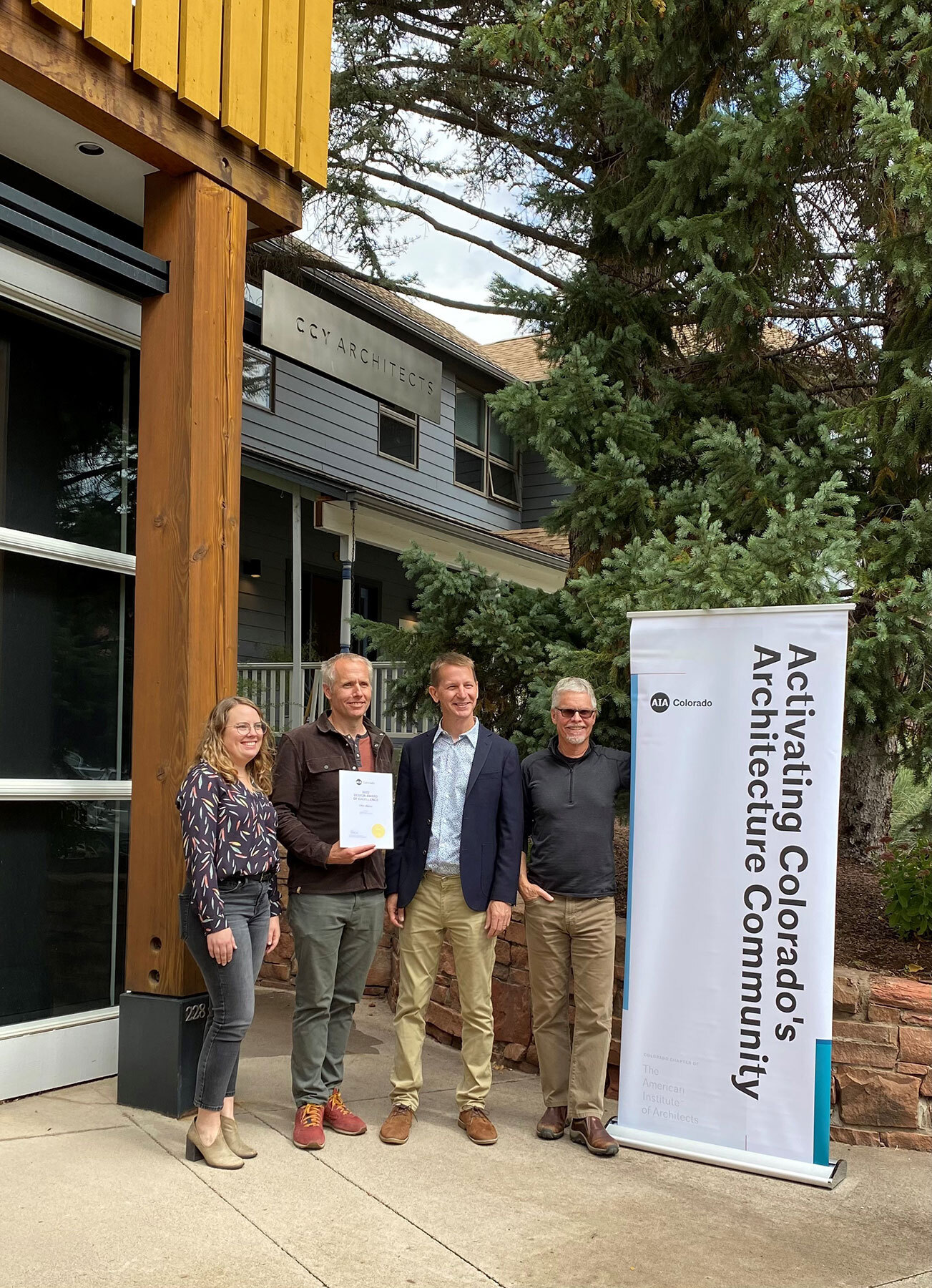 From my non-voting observations, custom residential projects are the most competitive. There are a bunch submitted and all are executed at a high level. We are lucky to have so many firms doing such exemplary work in this project type. DNA Alpine just had everything going for it. Gorgeous site, intriguing but not jarring form, impeccably detailed, great material selection, a sense of restraint and connection to the surroundings. – AIA Colorado, Mike Waldinger, CEO
This home comprises a series of secluded cabins that rest high in the alpine landscape of the San Juan Mountains. The main house, the garage, and the sauna buildings hug the sloping topography and nest into stands of mature evergreen trees, preserving the gently undulating meadow beyond. Responding to the owner's interest in synthetic biology, the siding is composed of a series of four metal profiles arranged in a pattern derived from the DNA sequence of the adjacent Engelmann Spruce trees that tower over the land. The angle of each of the siding profiles is slightly different, creating a subtle variation in the reflection of the landscape that transforms as the light changes.
"It is an immense honor to be recognized by AIA Colorado for our DNA Alpine house. Every CCY project is focused on creating spaces that connect to nature and are inspired by it. DNA Alpine is an exemplary project in its expression of this philosophy. To be recognized with the highest honor, the Award of Excellence is something we take tremendous pride in. We are thrilled to have this opportunity to share this unique project and are incredibly thankful to the entire team at CCY and beyond who helped us carry out our vision for this home. Lastly, we need to thank the client whose willingness to let us iterate and explore throughout the entire process this home wouldn't be possible."